Transfers from Thessaloniki airport

Zonetransfers.com
is one of the leading passenger transport agencies in Europe.

Booking your transfer from Thessaloniki airport online is now easier than ever. We make it easy for you to
travel to Thessaloniki with private transport
in a very simple and fast way.
Do you need a transfer in Thessaloniki airport arrivals?
We offer a comprehensive transfer service with pick-ups at the
arrivals
terminal at Thessaloniki airport and transfers to any place in the province. We offer you our private taxi service at Thessaloniki airport to reach all your destinations, whatever and wherever you are.
Similarly, if you have wondered how to get to Thessaloniki Airport, we offer private transfers to the
Thessaloniki airport departure
terminal at the best price.
Use our
taxi
service in Thessaloniki Airport. We have
6, 7 and 8-seater vehicles, more economical 4-seater passenger
cars and high-end vehicles for executive transfers, with the prestigious Mercedes Benz brand
.
Vehicles capable of meeting any demand. Our cars are equipped with the latest in performance, safety and comfort to make your trip as comfortable as possible. In addition,
on our website you can find out a multitude of prices and rates instantly
. Use our transport service in Thessaloniki.
Book your private transfer to Thessaloniki Airport online at the best price!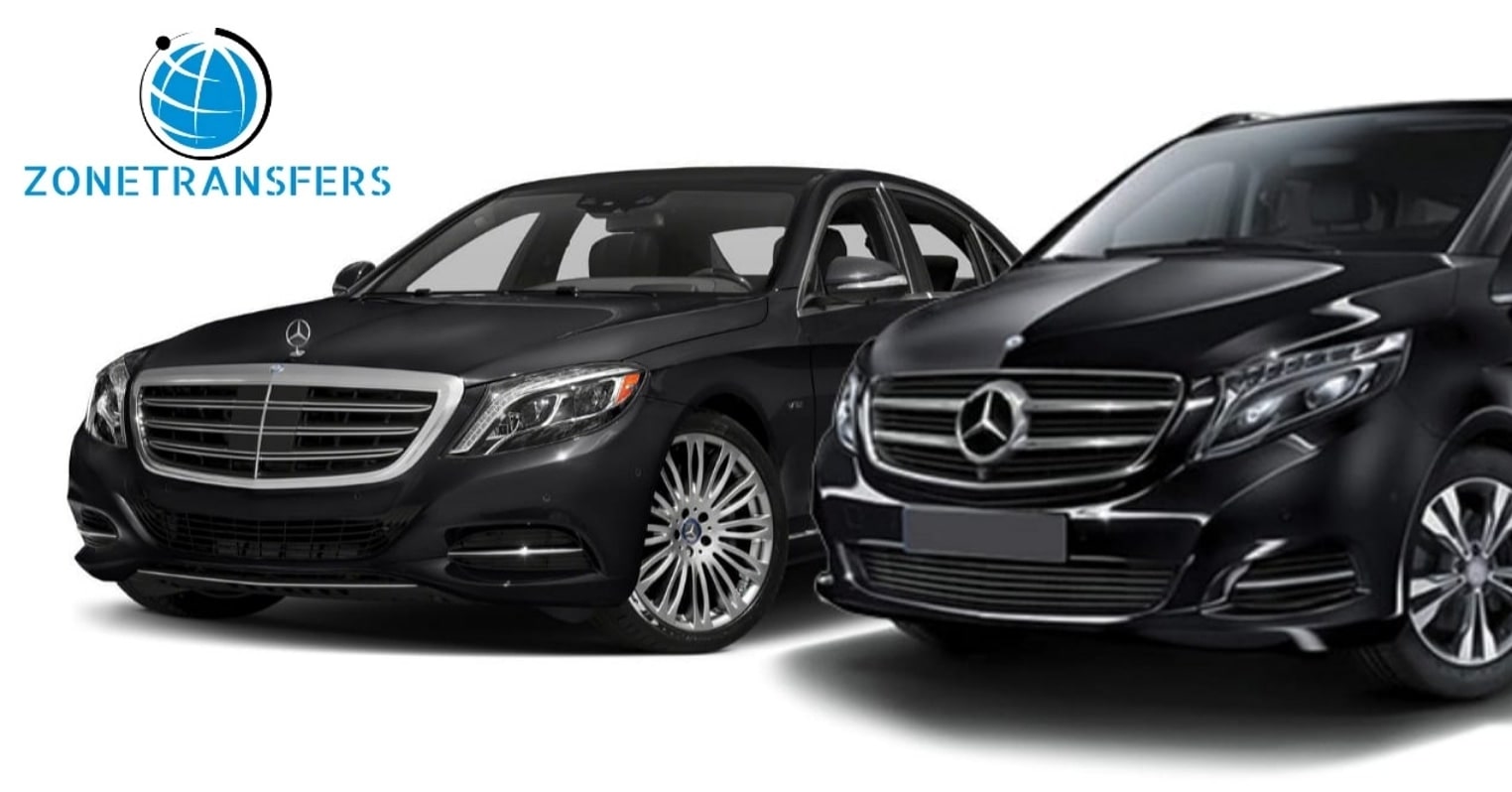 Large taxi for 5, 6, 7 and 8 seats in Thessaloniki Airport
Traveling in a group and need a large taxi at Thessaloniki airport?
You can reserve our vans of 5, 6, 7 and 8 people / seats.
Do you need a large taxi or transfer of 5, 6, 7 or 8 seats in Thessaloniki?
We have it! Book our range of large vehicles for your transfers and arrangements in Thessaloniki in a few minutes, at very low rates.
Zonetransfers.com provides you with all kinds of services related to the private transport of people at
Thessaloniki airport to any destination.
We have a transfer to suit you and we adapt to the demands and needs of our clients.




How to get to Thessaloniki airport?
If you need
transport to Thessaloniki airport from the center
, the
hotel
or any other city, book with us at the best price.
You have the possibility of taking a public bus that takes you to Thessaloniki Airport. Having to travel to the bus stop or station in the city where you are requires a waste of time in every way. It is not the most recommended option if you have to travel from your hotel or home to the nearest station, with the time and wait that this implies.
If you want to know the
price for a transfer in Thessaloniki
and have one of our professional drivers pick you up, contact us so we can give you all the information you want. The options for private transfer are many, from the cheapest to the most exclusive and innovative.
Private taxi from Thessaloniki airport
Looking for a private taxi service at Thessaloniki airport?
If you don't want complications and are looking for a fast, safe and no-wait transfer from Thessaloniki airport to your destination, reserving one of our
private taxis
is the smartest option. Our
Thessaloniki transfers service
is adjusted to affordable prices.
If you prefer a discreet, reliable and personal transfer, book now and avoid waiting, queues and the exorbitant rates of a conventional taxi.
Are you traveling with children to Thessaloniki?




We put at your disposal child seats and maxicosis without any additional cost (free) and on request in all our transfers, taxis and private transfers with children or babies in Thessaloniki and airport (SKG).







Advantages of hiring a transfer from Thessaloniki airport




Round trip reservation at a fixed price
English and Greek speaking drivers
Approved child seats included
Modifications and cancellations free of charge (24 hours in advance)
Our driver awaits you with a sign with your name
We monitor flights in case they are early or late
Booking a private taxi (or transfer) from Thessaloniki airport
is the best option to get to a city without haste or setbacks. Either to go from the airport to the hotel or other nearby destinations.
Imagine landing in an unknown country. Everything is different, you do not know the language, you are loaded, you are in a hurry and the last thing you want to do is look for (and wait for) some public transport that will take you to your hotel.
The solution is to book a
private transfer
at the airport in Thessaloniki. Certainly, this option will save you many problems, and even more so if
you travel in a group.
Let's put stress, rush, crowds and uncertainty aside. Rent now your
private taxi at Thessaloniki airport at a fixed price
.

FREQUENT QUESTIONS
Will I have to share a car during the transfer from Thessaloniki airport?
In Zonetransfers.com all the reservations offered are for private transfers. Your group will travel in a vehicle for exclusive use. You will never travel with strangers. This will allow you to avoid queues, save waiting times for other passengers and make a direct trip to your destination without stops.



How many suitcases or how much luggage can I take on the transfer to Thessaloniki?
The smallest vehicle we have is 4 passengers, with the exception of Premium services, which we recommend 3 passengers because they tend to be more compact. An 8-seater Minivan can hold up to twice as much as a 4-passenger car. The luggage allowed is one suitcase per passenger with a maximum accumulated size of 159cm (75cm + 53cm + 31cm). Please reserve a vehicle with the appropriate capacity for the needs of your group. Our operators work to provide you with the best possible experience. To give you an idea, the optimum for a 4-seater car would be to carry a maximum of 4 cabin bags. (4 large checked bags do not fit in the trunk)



Can I carry extra luggage such as surfboards, bicycles, sports equipment?
Of course. During the hiring process there is an "Observations" field where you can indicate that extra luggage. Remember to select a vehicle according to the extra luggage you are going to carry.



I need child seats for children. It's possible?
Yes. They are also free in most of the transfers we offer. We have child seats in different groups: Group I: Seats suitable for children weighing between 9 and 18 kg (approx. Between 9 months and 4 years). He wears his own belts: one goes over each shoulder, another between the legs and they close over the child's belly. Group II: Chairs suitable for children weighing between 15 and 25 kg (approx. Between 4 years and 6 years). Booster with backrest. Group III: Chairs suitable for children weighing between 22 and 36 kg (approx. Between 5 months and 11 years). Booster without backrest. You can select how many child and / or baby seats you need during the booking process. On certain occasions, chairs may not be available, such as
IMPORTANT: We do not have Group 0 child seats (maxicosi), called reverse. If you need it, please contact us to see if we can manage a chair from that range.



How will you confirm my transfer reservation from Thessaloniki airport?
Once you have paid your rent, you will automatically and immediately receive the voucher and its corresponding invoice in your email. 24 hours before your transfer from Thessaloniki airport takes place, our system will send you a reminder to your email.



How do I make a reservation for a Thessaloniki airport pickup?
We offer the possibility of making a reservation in the following ways: -ONLINE: You can make your reservation online on our website www.zonetransfers.com -EMAIL: You can request to make a reservation by email (info@zonetransfers.com) -PHONE : You can make your reservation by phone.



What minimum notice period do I have to rent a transfer from Thessaloniki airport?
We accept reservations with a minimum notice period of 24 hours (in the Peninsula) and 48 hours in the Canary and Balearic Islands (depending on availability). For urgent last minute reservations, you can call us and one of our operators will indicate if the requested vehicle is available. This service is subject to the validation and supervision of the operator.



How can I pay for my reservation?
You can make the payment for the full amount 100% at the time the reservation is made. We accept Visa credit / debit, Mastercard, American Express and Maestro. On some occasions we can facilitate payment by Paypal.



Is it allowed to travel on the transfer from Thessaloniki airport with pets or animals?
As a general rule, animals are not allowed, except if you are traveling with a guide or assistance dog. If you want to travel with your pet and you have a carrier, check with one of our operators to confirm and validate this service.



Is it possible to make a multi-stop on the way during the transfer from Thessaloniki airport?
Yes. We offer the possibility of making multiple stops in the same location to pick up or drop off other passengers. It is also possible to make a stop to collect the keys, as long as it is in the same location or in the direction of your final destination. During the rental process, select the option "Extra stop in the same location" in the "Extras and services" section. This service is subject to the validation and supervision of the operator.



What happens if my flight is delayed?
There is no need to worry either, since flights are tracked so that, in case of airline delays, you do not have any problems, your driver will always be waiting for you. These are in constant contact so you won't be left without transportation due to a flight delay. This service also has no cost for you, as long as the driver does not wait for more than 1 hour from the time the flight lands.



What happens if I arrive and cannot locate the driver?
There is no need to worry, as you will have a 24-hour emergency number available (in your voucher) to contact the traffic coordinator who will tell the driver your current position.



Where will my driver wait for me when I arrive at Thessaloniki airport?
In your voucher you have all the information about the meeting points at the airport, but as a general rule, your driver will be waiting for you in the arrivals hall of the airport, where all the family members are waiting, holding a sign with your name. The driver will wait for the time of 1 hour, which will start counting from the moment the flight lands. Go to him, and he will gladly help you with your luggage and with everything you need.



How can I cancel my reservation?
If you wish to cancel your reservation or transfer, you can do so "without additional charges" up to 24 hours before the day of the first transfer. To do this, contact us by phone or email.



I need an invoice for the contracted services
During the process of your reservation on our website
www.zonetransfers.com
, you have the option of requesting an official invoice, providing all your information as an entrepreneur or professional. It also has the option of requesting a simplified invoice to justify the contracted service or services.



Thessaloniki Airport transfers and taxi (SKG)
Zonetransfers.com , your website for reservations of taxis and transfers from Thessaloniki Airport .